Another blast from the past! The Dailylife Daughter #1 and her hubby were cleaning out my garage looking for garage sale items, and I was doing some sorting, when I found a LOT of photos I had thought lost. Here are just a few. The date on five of these photos is May 71, with one Aug 71, but that is the date the photo was printed…sometimes a single roll of film stayed in a camera for years, or just got left in a drawer without being developed. I found three of those yesterday! (Surprise Photo Time!) I believe these photos came from my brother Dennis' camera. I didn't have any that took square photos!
In 1970 my Boy Scout Troop (Troop 28!) took a long wilderness hike from Goat Haunt Ranger Station at the north end of Glacier National Park, to Logan Pass.  At least three of these photos are of that trip (top right, the two in the middle and the bottom right), while I am not sure what the others are…mostly…  We got our 50 Miler patch and an Historic Trails one!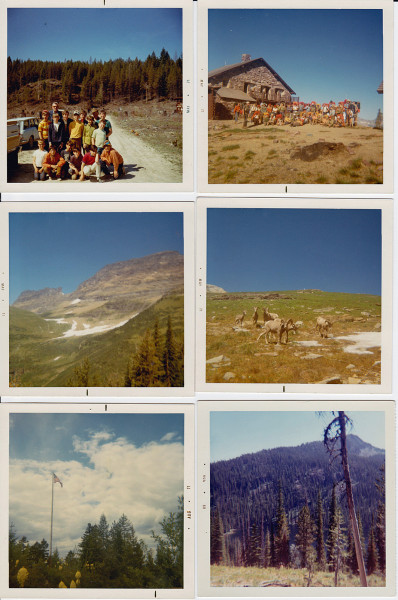 The first photo is from some campout or other by Troop 28.  I can identify some of us…from Left to Right:
Steve Tanska, Dick Stark (the adult in the back; I don't recall the kid in front of him) Randy Zinke (older brother to our current Congressman!?!), Bob Beausoliel, me (with the red bandana), and the adult I think is Neal?, the US Forest Service guy who helped the Troop a lot, I think…in the front row the kid no the left with glasses is Jim Black.  I don't recall the rest…
(UPDATE:  On the right in the green shirt is Kevin Slaybaugh, the man in the hat on the right is probably Ozzie Black (Jim's dad) and not Neal Hyde, and the kneeling orange shirt on the left is Curtis Macintyre…thanks Randy!)
(These are easier to see if you click on them a couple times to enlarge them; BACK to return here!)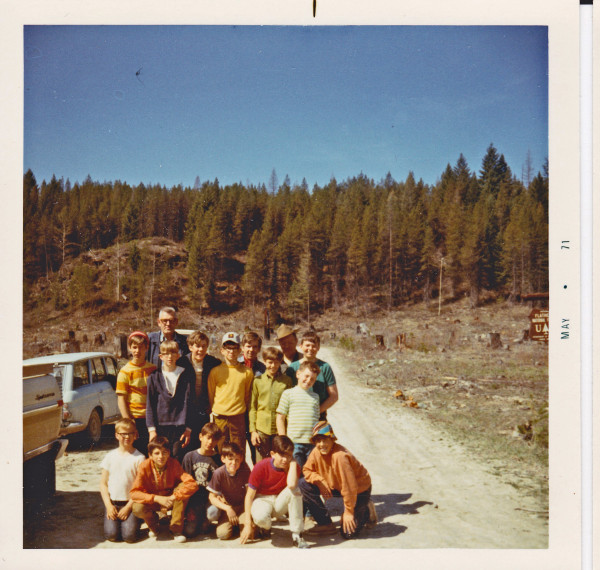 Troop 28 in front of the Granite Park Chalet in Glacier National Park.  The guy one in on the left in a hat is Dick Stark.  Over on the other side there is an adult in the back row with a blue shirt and black hat, several people to the left of the right side.  That is my Dad.  My brother Dennis is in the white shirt to the left of him; I am in the blue shirt in front of him.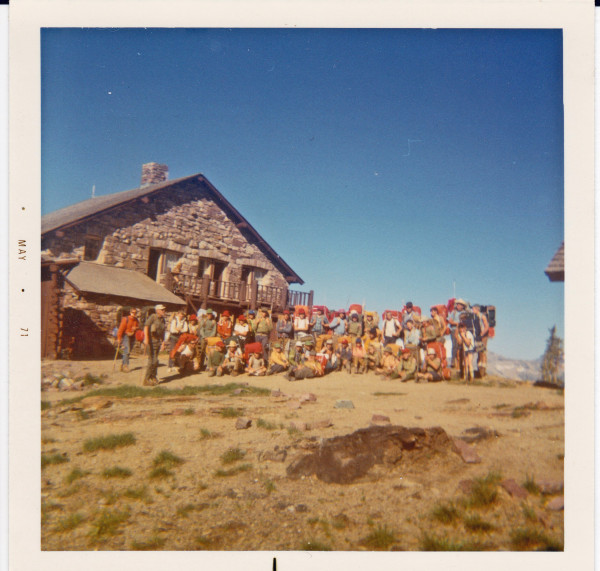 These are some of the big horn sheep we saw on that trip.  Not the ones that watched us go into Ptarmigan Tunnel and then walked over the top of the mountain to see us come out again.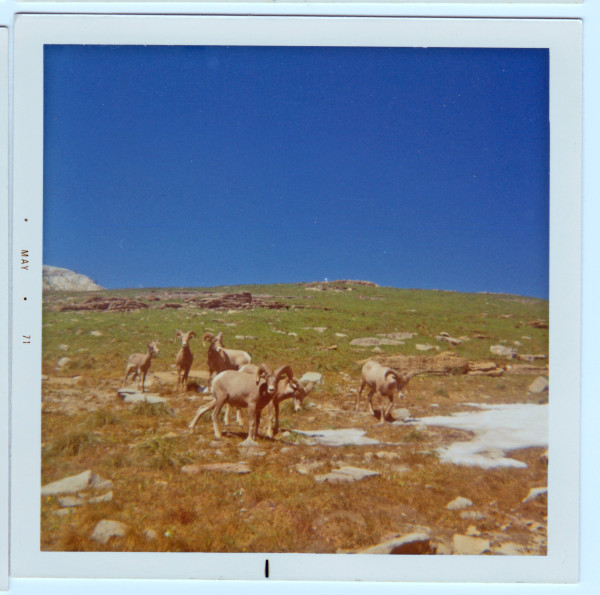 ~Curtis in /\/\onTana! {!-{>