Another blast from the past!  The Dailylife Daughter #1 and her hubby were cleaning out my garage looking for garage sale items, and I was doing some sorting, when I found a LOT of photos I had thought lost.  Here are just a few.  The dates on these photos range from Sep 69 to Jun 71 but that is the date the photo was printed…sometimes a single roll of film stayed in a camera for years, or just got left in a drawer without being developed.  I found three of those yesterday!  (Surprise Photo Time!)  I believe these photos came from my brother Dennis' camera.  I didn't have any that took square photos!
So here are the first six photos, then a closer view of three of them.
In the middle row right, I don't know who is in this group.  The Pavilion on the right is at Fort Steele, BC.  The lower left is from a furniture race at the end of the ski season at Big Mountain Ski Resort.
This "family" photo contains my Dad on the right, and Mom is the fourth on over (with the black hair).  I do not know who the other people are…they look vaguely familiar…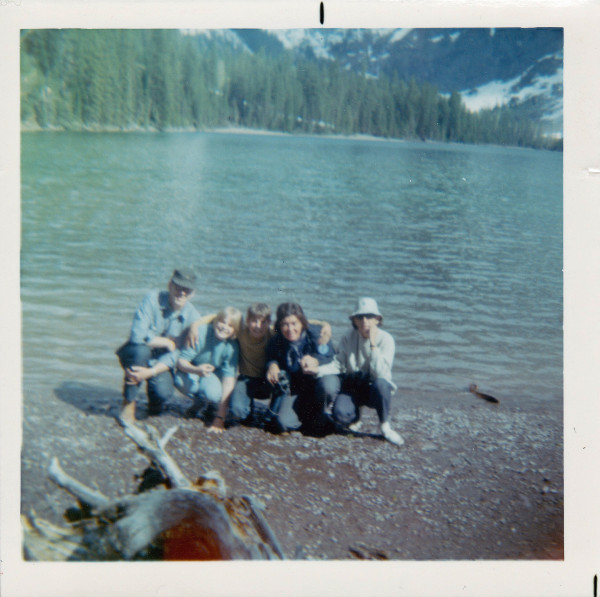 This is Me, Gramma, my sister Deyanne, and Hushpuppy, out in our front yard in Whitefish.  It was probably taken in Jul 69, around the time of the Moon Landing, although it could be a year earlier.  We put in a flagpole where we were standing in this photo, and I think it was there for Apollo 11.
I belive this is a photo of some of the trash left over after the City of Whitefish pushed the snow it removed from the streets all winter into the Whitefish River.  My Eagle Scout project was to get them to stop.  That is the old Baker Street bridge, just a few houses down river from our's.  If you can grow up with a river in your backyard, I highly recommend it, even if it drives your parents nuts worrying about you.
~Curtis in /\/\onTana! {!-{>