More Nevada City!
After lunch we took the Alder Gulch Short Line to Virginia City, the County Seat.  This is a two photo panorama.  The track is a lot straighter than it appears!  This is where we later photographed the Milky Way from.

The happy crew, ready to roll.
Some of those cars to the side above.
Rolling down the line.  The Alder Gulch Short Line is a small, narrow gauge line of about a mile and a half, with a diesel powered home built locomotive.  It is a fun ride, even if a bit short.
Approaching the "Y".  There is one at each end to turn the train around.  We are backing up until we reach the end of this leg of the "Y", or wye as it is spelled.  There is a cross track behind those trees in the middle we will pull forward onto, and the train will be pointed the right way.  At the far end we do it again, turning the train around.  It is much quicker and easier than a turntable, and less track and space is required than for a loop.
The last remaining dredge.  This valley was turned into rows of gravel with all of the ore pulled out if it, because the dredges suck up everything near the river bottom.When I was here 25 years ago, the mounds of gravel had not started to allow anything to grow after 100 years, but it has started to grow back now.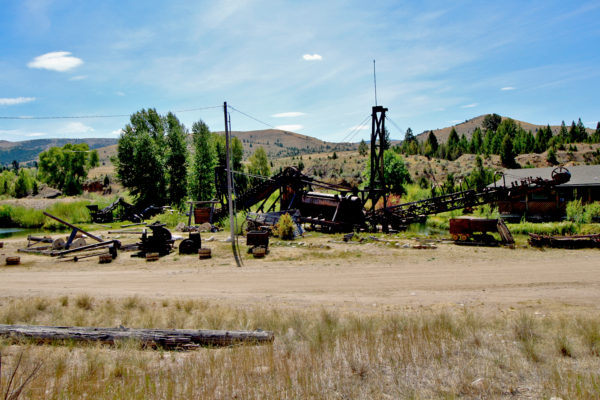 You can also pan for gold!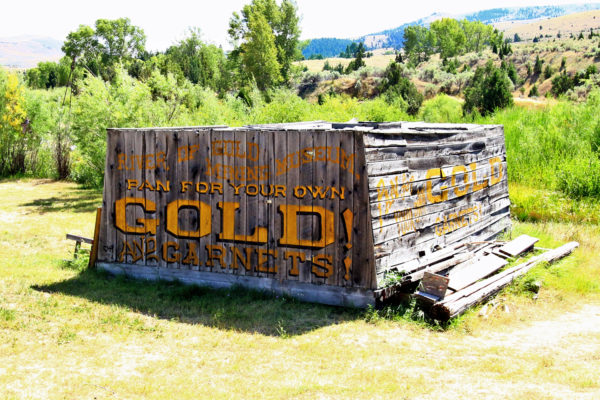 The dredge from the other side.
A small mine by the railroad tracks.
Shadows between the railcars.
A road crossing.  Our conductor is the girl in the pinkish tank top, standing not he side of the train.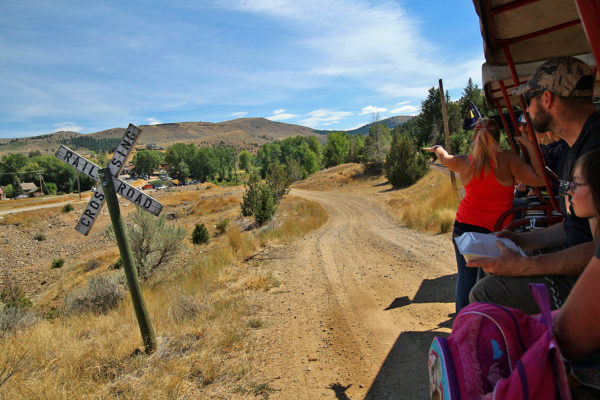 We are approaching the depot in Virginia City.  The platform was for when they used full sized railcars.  The ones we rode in let you step off onto the ground.
Arrival.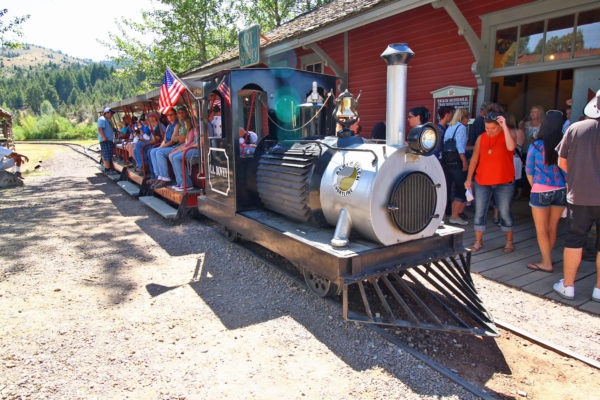 Our accommodations on rails!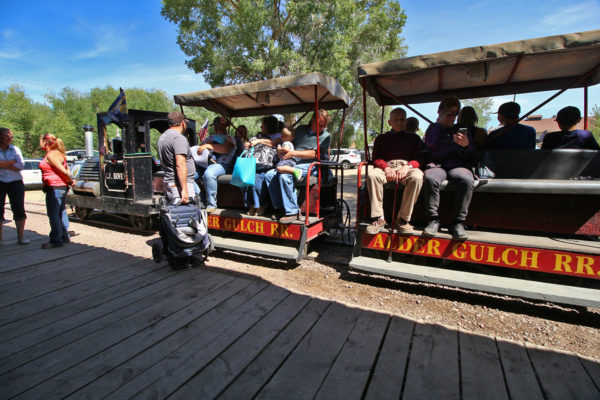 The story of the Alder Gulch Short Line, and the name of the boutique/artsy shop now occupying the station.  Click on it a couple of times to enlarge it.
~Curtis in /\/\onTana! {!-{>