Our cruise liner sailed out of Lihue, northwest up the coast of Kauai, around and southwest along the Napai Coast past Princeville.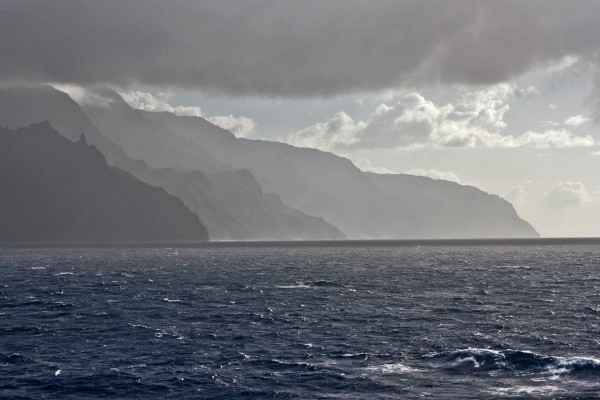 The official Napali Coast is only 17 miles long.  It only took and hour or so to cruise by in the NCL Pride of America.  This is looking back towards Princeville and Lihue.
(Multiphoto panorama: Click to enlarge, BACK to return!)
The terrain along the Napali Coast is extremely rugged.
There are no roads, only a 12 miles trail from up on top of the island.  The World's highest official swamp it up there on top!
The wind was picking up a bit as we sailed by.

Besides the rugged terrain and no roads, it rains over 400 inches a year on the top of Kauai!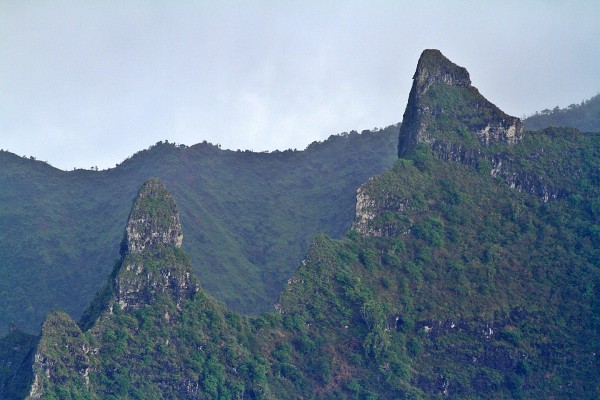 But despite the reputation for lots of rain, the sun was starting to come out a bit.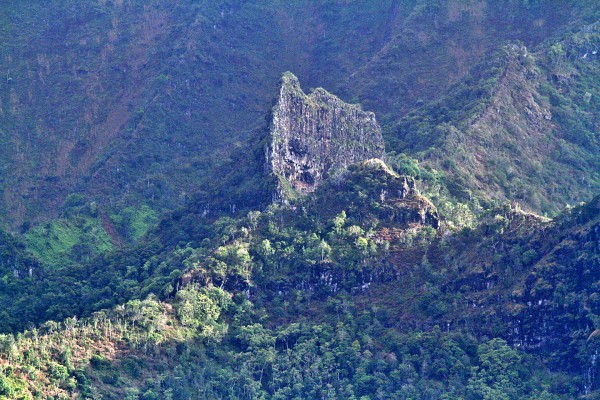 Multiphoto panorama.
In the panorama above you will notice a cliff along the shoreline, just to the right of center.  Here is a closeup.
Other details from the panorama.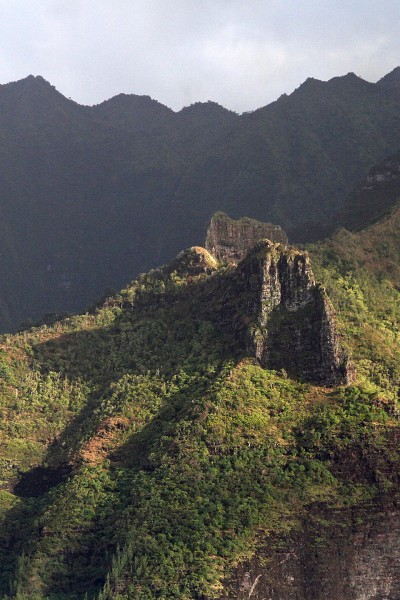 A double waterfall.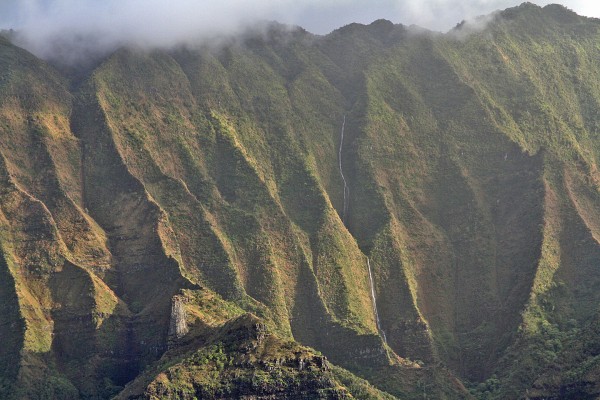 And from a little different angle.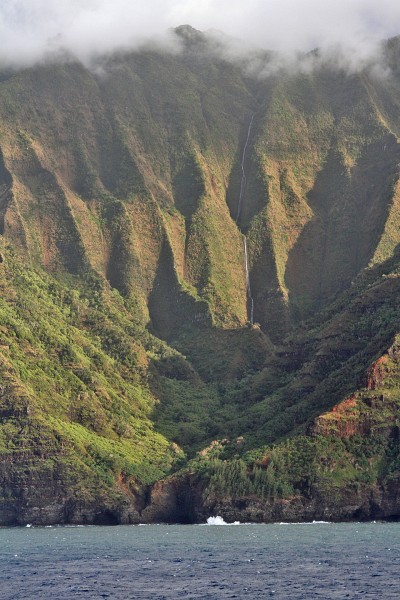 You can just see the lower waterfall to the left of the righthand peak, and another to the right.
There are still some big waves breaking!
These next two multi photo panoramas show a big valley that was once home to many thousands of Hawaiians.
It was well know for it's ropes around the Hawaiian Islands, and amongst the Europeans that sailed here.  You can just see the second valley on the right side of their photo.

The only way in or out is by boat, or up the cliffs and over the top at 5,000 feet.  The valley on the right above is on the left side in this photo.
This is the end of the Napali Coast.  From here on is the Barking Sands Beach and the Pacific Missile Range Facility (a rough duty assignment, for sure!).  Drive another 78 miles or so, and you are back to where we started along the Napali Coast.   It is an island, after all!
You know you really are at the end of nowhere when you find a NASA tracking facility!
Next: We cruise back the way we came for a wonderful sunset!
~Curtis in /\/\onTana! {!-{>