I was driving down by the Lewis and Clark Interpretive Center,when I saw these two railroad speeders.  They are used as utility carts along the railroad tracks.  I think they have mostly been replaced with trucks by now, but it seems that someone collects them.
A Fairmont.
…
I can just imagine a Speeder collectors convention, with a big oval track for everyone to go round and round on…
The Rio Grande.
…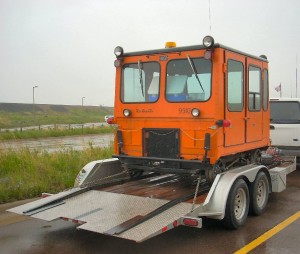 Note that they are on tracks built into the trailers.
(Nikon Coolpix L11 on Automatic)
Curtis in /\/\onTana! {!-{>