Here is the new bridge just before you pull into East Glacier.  That is Glacier National Park in the background.  No more narrow bridge at the bottom of the dip!
(1/2000s f/4.0 ISO100 6mm (35mm eq:28mm) -2/3 stop Nikon P7100)
This is getting closer to Marias Pass.  Note the freight train on the tracks ahead.
(1/1000s f/5.6 ISO100 16.3mm (35mm eq:76mm) -2/3 stop P7100)
Once up at the Izaac Walton Inn in Essex I met with Dad and a bunch of his friends in the CMA (Christian Motorcycle Association).  One of them brought the cake!  Unfortunately I had caught some bug or other and I was not feeling well.  I didn't even get photos of Dad or Sarah…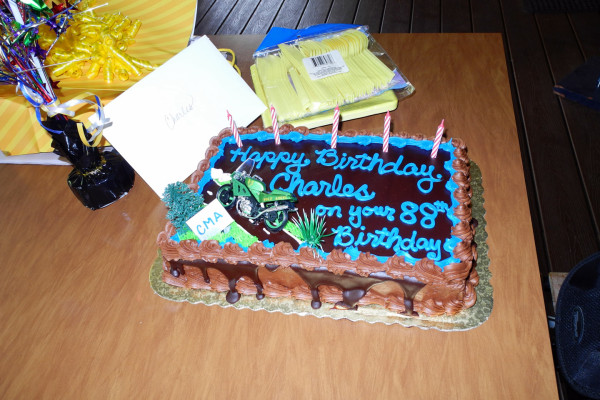 (1/30s f/4.0 ISO100 6mm (35mm eq:28mm) -2/3 stop P7100)
So I took off for home early, not even finishing my sweet potato fries or having any of that wonderful looking cake, and when I got home at 5:30 I hit the sack.  A couple of hours later I got up for a bit, weak as a kitten. Sunday was spent doing not much at all.  The Dailylife Wife helped the Dailylife Daughter #2 drive back to Tacoma, and is flying home tomorrow night..
~Curtis in /\/\onTana! {!-{>