(No fun camera data in this post: it is all snapshots!)  Click to enlarge!  They are all bigger.
Grandpa, look what I built!
And here is our little ham 'n cheese!  Say "Cheese" and he really hams it up…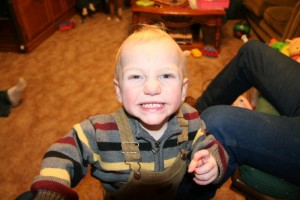 Toots is getting excited about all this…you'd think she'd be a little jaded by now.  She unwrapped all the presents under their own tree two weeks ago, after all.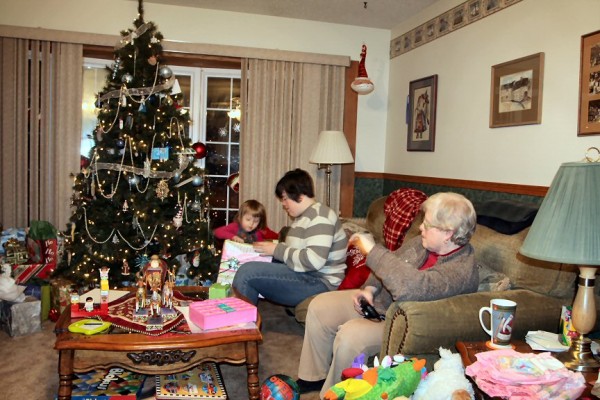 Huh?  A present for me?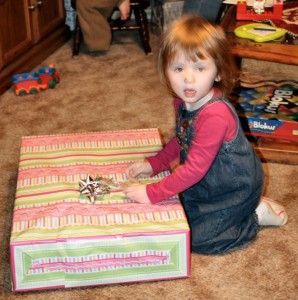 I can get this, I know I can!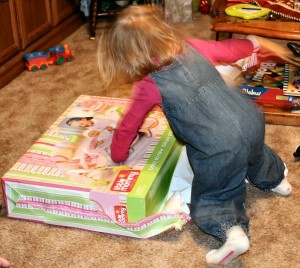 Uh oh, here comes that strange kid who lives in my room…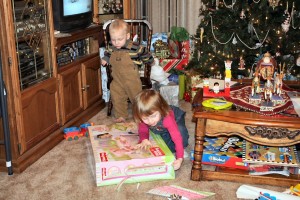 DORA! DORA! DORA! Â  Â  Â Â  Un huh, Un huh, I got more princesses too!
Leslee gets a giant cupcake maker!
But when she looks inside she finds…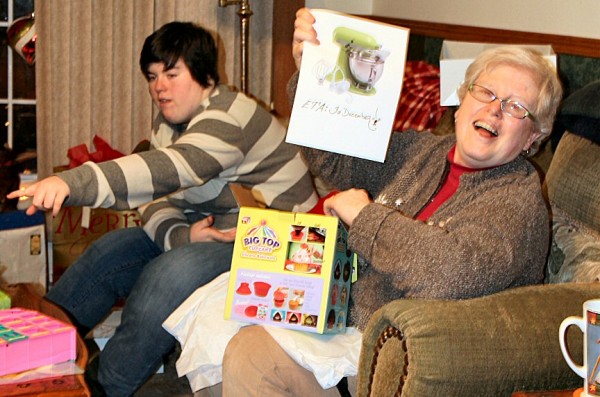 …there is a Kitchenaid Stand Mixer in Green Apple (her colour!) on the way, too!
Caitlin unwraps her new Acer Aspire Netbook…she doesn't want to risk her MacBookPro (aka: $$$$$) next year when she goes to school in Austria.
My number one son-in-law finally gets a chance…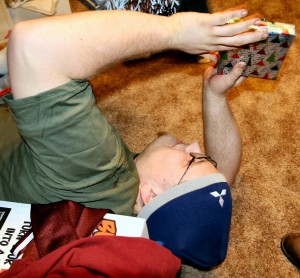 My number one daughter is now a bag lady!
Daddy helped me unwrap this really neat Duplo block set!
My sister sent Kirsten a Christmas diorama that moves and plays.
Now she is organized!  Yeah, right.
Hmmm…what did you find Nick?
(The Santa Pictures under the TV are from me to Leslee)
PJs from the Grandparents in the Flathead!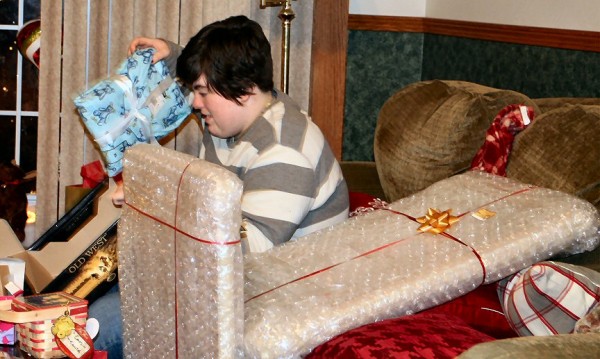 Harlee is about to become a new grease spot on the carpet when she is crushed beneath my new 42 Inch TV.  Wow, the picture on this thing is great!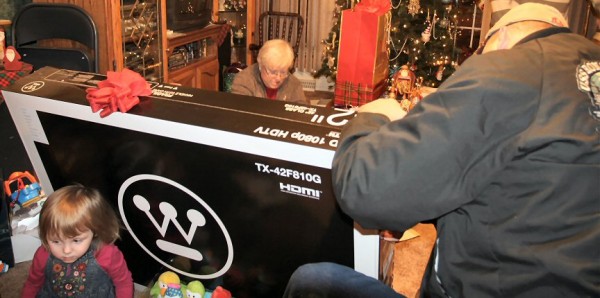 Nick hasn't quite figured all this out yet.  He spent most of the evening talking on various telephones to who knows who…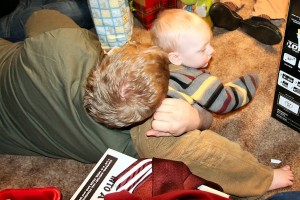 But he did get a new laptop out of it!  It talks in Engish and Spanish and Harlee is trying to claim it…
After the crowd left Leslee got to empty her stocking.  A banana keeper and an Audobon stuffed Canadian Goose that honks when you squeeze it!
One last look at the outside…
We hope you all had a Merry Christmas Eve, too!
~Curtis and Family in /\/\onTana! {!-{>