A new addition at the Barrow Family Garage & Parking Emporium: a 2008 Ford F150 XLT with the 6 1/2 foot bed! It has a 5.4 liter V-8 that gets the same mileage as the smaller engines but ups the towing capacity over our Pilot by more than 50%.
There are a few dings and scratches, but that is to be expected at almost 140,000 miles!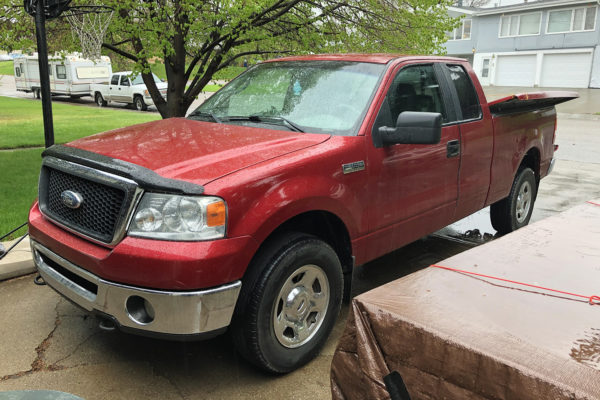 There is also a Toneau<?> cover for the bed. It is a work in process…I guess the guy selling it as part of a family member's estate didn't seem to have the key and took it off to show the truck. He gave me all the parts, but I don't recall seeing any gas-struts to help lift it. And it is fiberglass that needs some care and paint. It is in the bed.
And it is getting steps or running boards real soon: it is a long way up, and it can be a fast trip down if you forget when getting out!
~Curtis in /\/\onTana! {!-{>