(I was off a day on my two Christmas posts, but I am back in sync now!)
It has been a long, and very short, 27 years, since that dreary day in Germany when my darlin' and I got hitched! 
These are pages from one of my scrapbooks from Germany.  Some of the photos have been seen before, on our Anniversary, of course!
A small get together in our apartment, then we all filed out to the Verheirat's Amt (Wedding Bureau.  This civil ceremony is required by everyone getting married in Germany; if you want a religious ceremony, everyone runs over to the Church after this one.)
Top: Dailylife Wife-to-be, Lauree, June, Ulla
Middle: Lauree, Julie and June
Bottom: Steve, Cindy Anstey and Mark Crawford
Click to enlarge; BACK to return!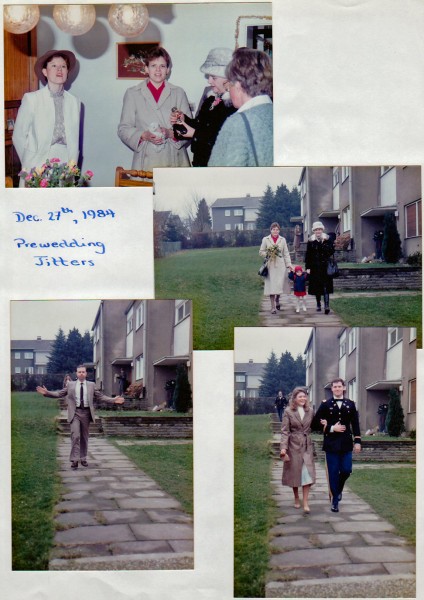 Exchanging rings and the infamous German paperwork.
Top: The Dailylife Couple-to-be; The Couple, Lauree, June, and a Peek-a-boo Julie
Bottom: Cindy and Dave Anstey, Mark, the Verheirat's amt guy, and the Couple
The Bride waiting and posing.
Top: The Dailylife Wife, Dave and Cindy Anstey
Middle: Julie and the Dailylife Wife
Bottom: Cindy, Dailylife Wife, Julie, June
The Dailylife Bride, The Dailylife Monther-In-Law, and a very suspicious Julie:
"How long have you known this character?"  "Your whole life."
"Has he got a good job?" "He is a U.S. Army Officer."
"Will he tell my husband embarrassing tales from my childhood at my Disney World wedding?"
"Absolutely."  "Well, I guess it's okay…"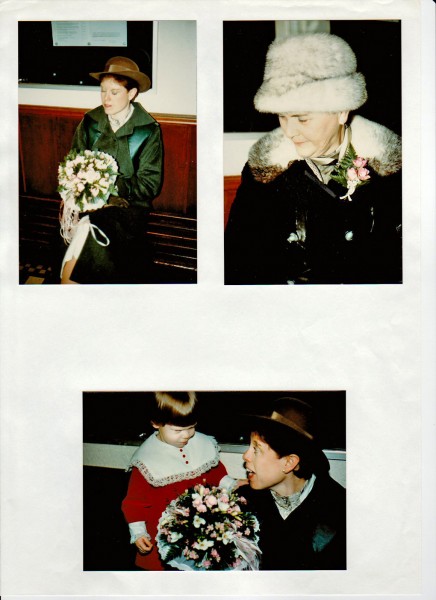 Top: The Ampt guy, me, my Dailylife Bride, Lauree, June, and that Peek-a-boo Julie.
Below: Ulla, our official translator and my unofficial German Mom.  I had to get a translator because the Ampt guy said I might be selling the Dailylife Bride-to-be a used car…if she would have gone through all this for a used car, she would have gotten what she deserved.  Instead, she got me.  It is too late about that car.
I think…
Our marriage license is in eleven languages…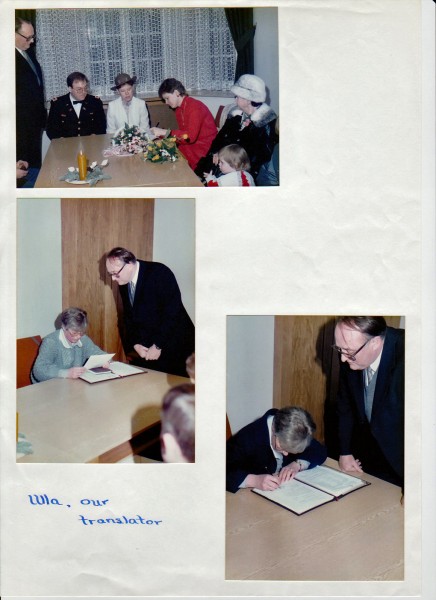 Dave, Mark, Ampt Guy, Us, Lauree, June, Dagmar (Ulla's daughter) and the back of Peek-a-boo Julie's head, and the final signatures.
In front of the Rathaus.  Ulla, Julie, Dagmar, Me, Her, Mark, Lauree, Steve, June, and Cindy.  I think Herbie (Ulla's husband) took the photo.
Then on to the Tower in the City Wall, where there was a very nice restaurant for lunch.
Herbie's son is on the left, and Herbie is behind him.
I don't remember what we had, but there were lots of flames involved at the serving cart.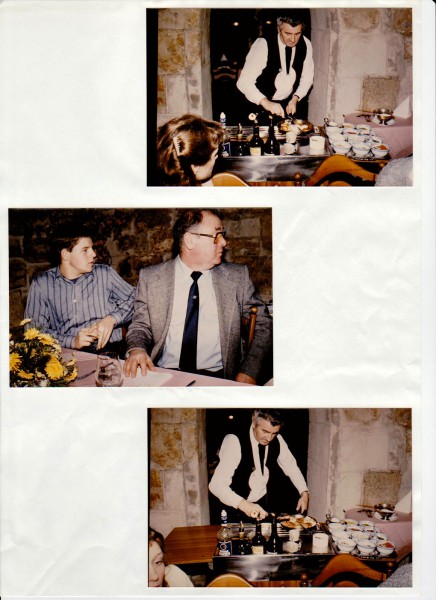 Back home there was Wedding Cake and Champagne.
The new Dailylife Wife, Julie, and I think it is the Anstey's kid in blue…
After this little reception (cake and tea!) we left on our Honeymoon down the Rhine.  The New Bride left strict instructions to Mark to just leave her delicate collectable teacups for her, rather than hamfistedly washing then as he cleaned up after we left.  He didn't listen, and didn't break a' one!
Happy Anniversary!
~Curtis in /\/\onTana! {!-{>