Leslee and I were wed in Germany on this day in 1984, twenty five years ago (and I am actually posting on the right day!).
Outside our charming quarters, a poured concrete apartment Building.  Inside they were nice…
(Note the snazzy Olympus OM-4 Camera under my arm: still got it; still works!)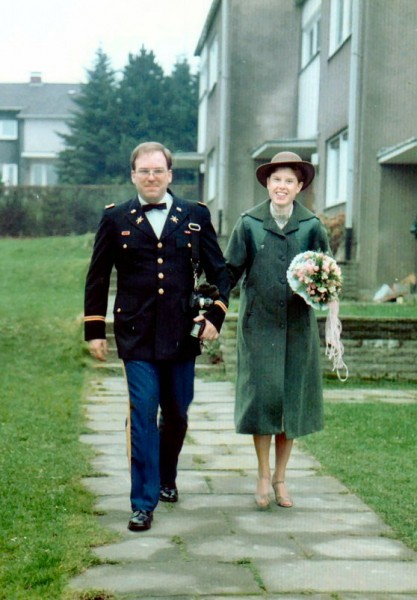 Planting the ring.
Getting one back.
(The gal in Red is Leslee's sister Lauree; the white hat in June my mother-in-law, and the head is Julie, Lauree's daughter and now married herself.  How time flies!)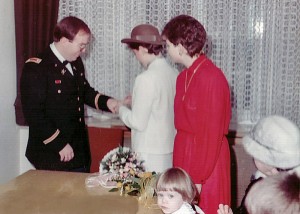 The Happy Couple!
The whole party.
From left to right:
Ulla, my translator and German Mother; Julie; Dagmar, Ulla's daughter; me; Leslee; Mark Crawford; Lauree; three quarters of my brother-in-law Steve's head; June; and Cindy Ansty.  Dave Ansty was on of my officers for a short time before he moved on to the Group HQ, but he still lived where we did.
Happy Anniversary!
~Curtis in /\/\onTana! {!-{>